Glenn Mechanical : Plumbing, Heating, Air Conditioning and more...
Since 1956, Glenn Mechanical in El Dorado, AR, has and continues to offer a wide variety of services to commercial and residential properties. Whether you're installing a heat and air conditioning system in brand new construction or you want to replace an old, inefficient unit, you can rest assured that our knowledgeable technicians are up to the task. Our plumbing services are unmatched, offering highly trained and experienced plumbers who are equipped to handle every aspect of the job. Though we are mostly widely known for our plumbing and HVAC services, many do not know the many services and products that we do provide. Below you will see the wide range of options that you may rely on Glenn Mechanical to perform for you.
Our team is devoted to meeting your commercial or residential mechanical needs, and we take great pride in the work we do. When we visit your residence or place of business, we'll make sure the job gets completed accurately and according to schedule. What's more, we'll treat you with courtesy and respect, and we'll be sure to answer all your questions. We approach every new job with enthusiasm, professionalism, and dedication. We're proud to serve diverse individuals and businesses all over the El Dorado, South Arkansas and North Louisiana area, and we would be thrilled to add you to our list of satisfied customers.
To find out more or to schedule an appointment, please contact our El Dorado, AR, location today.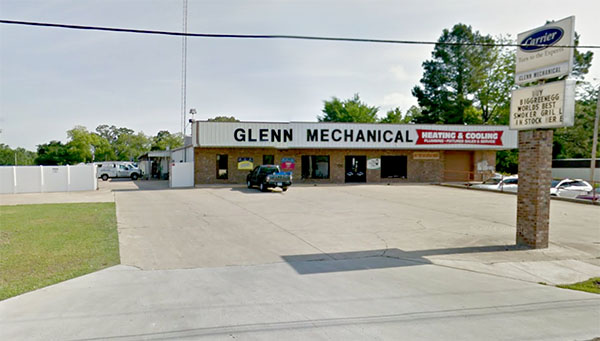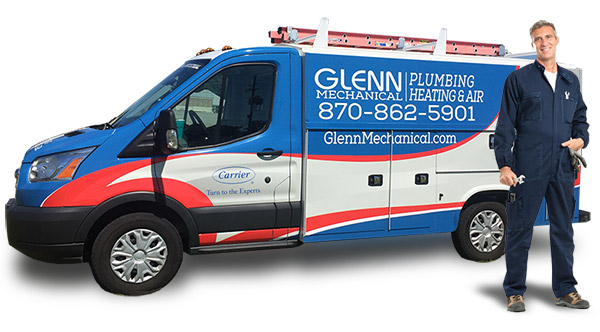 Why Choose Us?
Over 60 Years Of Experience
24/7 Emergency Service
Punctual Service
Quality and Integrity Is Our Focus
Locally Owned & Operated
Written Estimates
Licensed and Insured
Our Technicians Are NATE Certified
Business Hours
Emergency Services Available 24/7
8:00 AM to 5:00 PM
8:00 AM to 5:00 PM
8:00 AM to 5:00 PM
8:00 AM to 5:00 PM
8:00 AM to 5:00 PM
Some of our Residential Services:
Clogged Drains, Drain Cleaning, Hydro Jetting, Sewer System Backups, Sewer Line Repair & Replacements, Plumbing Video Camera Inspection, Plumbing Diagnosis & Inspection, Plumbing Repairs, Plumbing Replacement & Installations, Water Line Repairs, Water Line Replacement & Installations, Frozen Pipes, Leaking Pipes, Water Heater Repair & Replacements, Sewer System Maintenance, Sewer system installation, Plumbing design and drawings, Plumbing fixtures, Plumbing fixture installation, Emergency Service, Septic tank cleaning, Field line cleaning and installation, Blown attic insulation, Ductwork installation, Duct work cleaning, Wi-Fi controls, Tankless water heaters, Geothermal heating and cooling, Excavation, Walk in bathtub installations, Bathroom remodels, French drains, Crawl space ventilation, Air conditioning sales and installation, Heating sales and installation, HVAC maintenance contracts, Air conditioning systems, Cooling systems, Air sanitizers, Heat pump sales and service, Heat pump installation, Ductless air conditioners, Ductless heat pumps, Condensate drains, Thermostats, Entergy analysis, Storm drain, Gutter drain, Surface drain, Patio drain, Grinder pumps, Pump stations, Waste water pumps, Outdoor kitchens, Big green egg grills and accessories, Hot springs spa, Berlin gardens, Swimming pool and spa chemicals, Boilers, Pool Pumps, Pool parts and accessories, Generator sales, Generator installation, Generator maintenance, Hvac design, Orion, Automatic pool cleaners.
Some of our Commercial Services:
Clogged Drains, Drain Cleaning, Hydro Jetting, Sand traps and catch basin cleaning, Grease trap installation and service, Grease trap cleaning, Sewer system maintenance, Sewer system design, Sewer system installation, Controls, Wifi controls, Hvac controls, Hydro excavation, Pressure washing, Fiber optic camera inspection, Infrared camera evaluation, Excavation, Pump stations, Trench drains, Water testing, Sewer System Backups, Sewer Line Repair & Replacements, Pipe welding, Pipe installation, Chiller installation, Boiler Installation, Chiller service, Boiler service, Chilled water installation, Steam piping, Hot water piping, Plant maintenance, Millwright work, Rooftop package units, Commercial Split systems, HVAC maintenance contracts, Air conditioning, Heating systems, Entergy evaluations, Blown insulation, Medical gas, Medical vacuum, Cooling tower maintenance, Cooling tower installation, Cooling tower pumps, Control valves, Steam condensate pumps, Air sanitizers, Humidifiers, Warehouse fans, Warehouse ventilation, Warehouse air conditioning, Spot cooling, Video inspection, Fiber optic camera, Plumbing Video Camera Inspection, Plumbing Diagnosis & Inspection, Plumbing Replacement & Installations, Water Line Replacement & Installations, Plumbing System Maintenance, Water Line Repairs, Plumbing Repairs, Frozen Pipes, Leaking Pipes, Water Heater Repair & Replacements, Emergency Service, Ductwork, Specialty metal work, Air handler installation, Furnace installation, Commercial Air Duct Cleaning, Commercial HVAC Installation, Commercial Heating System Service, Furnace Installation, Furnace Repair, Air Conditioning Service, Air Conditioning Installation, Air driers, Air lines, Hydraulic hoses, Custom made hoses, Belts, Tank hoses, Tank hose fittings